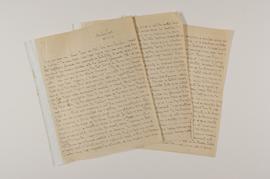 Reginald Farrer - correspondence to Ernest Gye
A collection of 13 letters purchased at auction in 2008, written by Reginald Farrer and most likely sent to the British Diplomat Ernest Frederick Gye C.M.G., though Farrer tends to refer to him as his "Poison", "Viper" or "Venom".
Gye's mother was the singer Dame Emma Albani and his father was Ernest Gye, the lessee of Covent Garden theatre. Gye entered the Foreign Office in 1903, became Second Secretary in 1908 and Councillor in 1924. He served for some years in Tehran in the earlier part of his career (and where he was when these letters were written) before being appointed Minister and Consul General in Tangier in 1933. Three years later he was made Minister Plenipotentiary in Venezuela, retiring in 1939.
The 13 letters were written in Upper Burma (now Myanmar), mainly from Hpimaw and Nyitadi, and date between May 1919 and September 1920, the last being written only five weeks before his death. The letters are liberally peppered with nicknames and gossip, and the identity of everyone mentioned may never be known; for example, his 1919 travelling companion, fellow plant collector Euan Cox, is often referred to by the name "Jumps". In amongst intimate information and personal references are descriptions of the country, people met and plants collected.
Gye, Ernest Frederick